Hello and a warm welcome, glad you're here!
This website is for everyone who is inspired by new kinds of sounds and instruments.
Are you interested in sound massage on the soundchair or soundbed? Would you like to experience the energy and power of a sound meditation with a monochord or a kotamo? Then Meerklang is the place for you!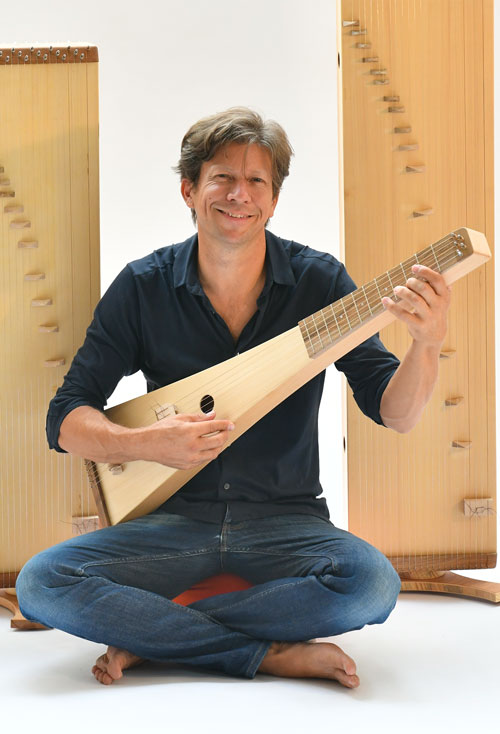 About me and Meerklang
My name is Götz Rausch. I've been running my music instrument building workshop Meerklang since 2002, based in a small village called Stolzenhagen north east of Berlin.
I learned my trade at Klangwerkstatt in Berlin, where I was apprenticed to Bernhard Deutz for three years. The focus of my work is the creation and manufacture of high-quality, easy-to-play stringed instruments for people of any age, who want a simple and direct approach to playing, working and experimenting with sound.
The Meerklang instruments can make your introduction to the world of music-making considerably easier, as the approach does not require discipline and strict rules, but a free discovery of sounds, rhythms and harmonies.
From the very first moment it is a joy to jump into the world of sound with these instruments. It's not necessary to have previous musical knowledge or to take lessons. It's enough to learn a few playing techniques, which are demonstrated on my video for each instrument.
It's a commonly held belief that music-making is only for those who have spent years learning to read music, but these instruments open up a space for everyone who has not done that or wished to and yet still wants make music themselves or to get in touch with sound.
Music and sound are like a sea that you can dive into, an element that you can play with or let yourself float in, sometimes it's stormy, sometimes still, sometimes gentle waves let you drift… And you can jump into this sea, even if you can't do perfect butterfly stroke!
I hope you have fun on this website…